"My Body, My Choice": The Future of Women's Reproductive Rights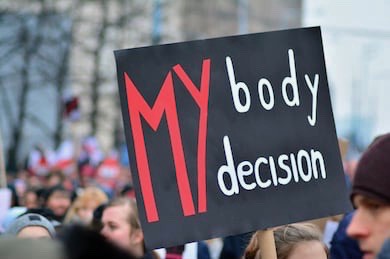 On September 18, 2020, the Supreme Court announced the death of Justice Ruth Bader Ginsburg, who will be remembered for her contributions to gender equality in the U.S. Ginsburg's passing has called for the appointment of a new justice, which will determine whether the Supreme Court favors left-wing or right-wing platforms. Many have expressed concern over the future of women's rights, including those pertaining to reproductive health.
The 1973 Supreme Court case, Roe v. Wade, ruled that it is a woman's constitutional right to have an abortion without excessive government intervention. However, since then, many states have attempted to challenge this ruling. According to the Guttmacher Institute, 25 new abortion bans were passed across the U.S. in 2019. Many of these states introduced "heartbeat bills", which prohibit abortion after fetal cardiac activity is detected. Just recently, four states successfully interrupted abortion practices by excluding them as essential services during the Coronavirus pandemic.
Abortion rights are not the only liberties at stake. Planned Parenthood, a nonprofit provider of various reproductive health services and education, has been at risk since President Trump's election in 2016. The Trump administration has taken action to defund the organization. The most harmful of these attempts is the removal of Planned Parenthood from Title X, the nationwide program for affordable birth control, as it largely affects low-income patients' ability to receive affordable contraception. Among abortion services and birth control, Planned Parenthood also provides cancer screenings, counseling, LGBTQ+ services, pregnancy testing, and much more. If the Trump administration succeeds in shutting down the institution, about 2.4 million patients could potentially lose access to critical health care.
To learn about how students feel about this issue and how they might be affected, three Tritons volunteered to be interviewed. Among these students was senior Alexandra Camargo, who stated that she is "not too optimistic" about the Supreme Court decision.
"I believe that women should have sovereignty over their own bodies," Camargo said. "I don't believe that policies should have any say in humans and their human processes…You don't see men's vasectomies being limited, I think it just goes back to keeping women subservient".
Senior Kennia Duarte also shared her beliefs on the subject.
"A lot of young girls who get pregnant don't have anyone…and they need someone there for support, that's why I think [those institutions] are important," Duarte stated. "It's their body, and there are already a lot of kids in the foster system, so I think it's best for girls to have a choice".
These matters not only impact women but anyone who was assigned female at birth. A fellow Triton, who wished to remain anonymous, gave insight on how transgender individuals rely on reproductive freedoms.
"Planned Parenthood is known for being a safe place for everyone…and it's better for people who are assigned female at birth because they have that credibility," the student said. "I think the conversation surrounding reproductive rights and abortion should start including trans individuals."
Stay educated and up to date here. Learn how you can help institutions here.