Take a Leap of Faith
With encouragement from her friends and family, Clarissa Durazo, a sophomore at Pacifica High School began a new passion in the summer of 2020. Putting in hard work and determination towards her new hobby she accomplished her dreams, becoming a part of the cheering family, creating new friendships and memories along the way.
Leading up to all the practices and tumbling classes she's attended, the significance of a new journey influences her new perspective on life. On March 10, 2021, Durazo participated in her first-ever sideline cheer at a JV football game against Buena.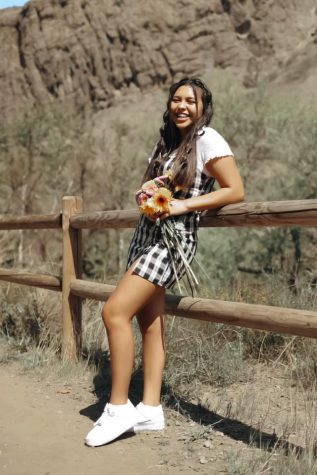 "I've always wanted to be a cheerleader," Durazo said. "My Nina used to be a cheerleader so she'd tell me stories while growing up."
At the beginning of Durazo's experience, her Nina assisted her in improving her flexibility, sharpness, and performance. Even without zero background in cheerleading she remained dedicated and set her goals.
"I learned to step out of my comfort zone and try something new," Durazo stated. "If you want something bad, put yourself out there, it'll be worth everything."
Durazo took her advice and stood out to the crowd during the JV football game, despite the nervousness she experienced. Having such an optimistic attitude and bubbly personality assists her in the long run, both in friendships and her adventures.
"Clarissa and I complement each other with our different personalities and interests," sophomore Janel Acosta, friends with Durazo said. "We can both motivate and inspire each other to do our best or try new things despite our distinction."
At first, Durazo was afraid of taking a big leap of faith all on her own. In the end, Durazo is glad about the result she got. Gaining confidence and reassurance that she has the ability to achieve any goal she dreams of.
Durazo is excited for the next game so she can perform with her new peers. She hopes that society can soon go back to normal so that she can begin cheering with a crowd in the bleachers as well.
"If the thought of doing something new alone is scary, just do it anyway," Durazo suggests. "The only person you're hurting is yourself, I'd rather regret trying than regret not trying at all."
Leave a Comment