Will Cross Country be the first sport to return since COVID-19?
As we entered a worldwide COVID-19 pandemic in early March 2020, all sports were gradually canceled while lockdowns were heavily enforced, specifically in the United States. This escalated from only a few spectators allowed during sporting events to entire athletic seasons being postponed, impacting athletes of all ages from the little leagues to the professionals. However as regulations took effect further into the pandemic, professional sports teams were slowly given the opportunity to begin their 2020-2021 seasons, with the NBA being one of the earliest to return.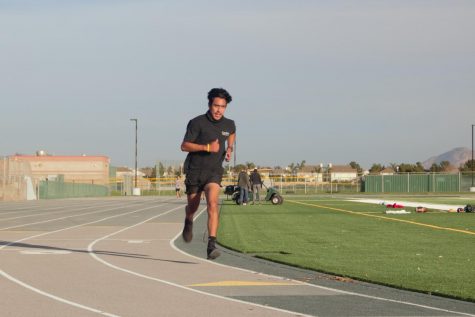 The CDC has evaluated the risks of youth sports, explaining that indoor sports require athletes to be in closer proximity, exceeding the recommended 6-foot distance. This increases the possibility for an athlete to become sick with the virus, which will require that individual to quarantine, along with the rest of their team. Due to this issue, a number of high school coaches have been instructed to cancel their seasons including basketball and volleyball.
Fortunately, cross-country athletes are given the opportunity to have a 2021 season. Although cross country is one of many outdoor sports, this sport differs from others because athletes are able to compete at a greater distance from one another without any contact. In cross country, hundreds of athletes run a 3-mile course. The outdoor courses and long distances that these athletes have to run allow for greater proximity between runners and a decreased risk of catching and spreading the virus.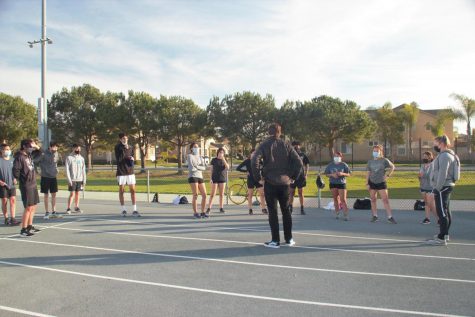 Here at Pacifica High School, the cross country team has taken advantage of the situation and has been training for months to prepare for their upcoming season. New head coach Blake Selig explains that the cross country runners can "work-out and compete anywhere, which has allowed [them] to be able to follow the protocols that CDC and the county have in place." Although the PHS cross country team only consists of just under 20 athletes, the coaches are making sure that all protocols are being followed.
In order to maintain the safety of their athletes and themselves, Coach Selig and Coach Carver have a specific routine that is followed before and during each practice. "[Each athlete scans] a QR code that's kind of a passive screening that allows us to ask a couple of different questions [that will determine] whether or not the student-athlete will be able to come into practice. Also, we take temperatures, we keep our masks on, and we try to stay as socially distanced as possible," explains Coach Selig. These procedures have been successful during each practice and all athletes are able to return home safely.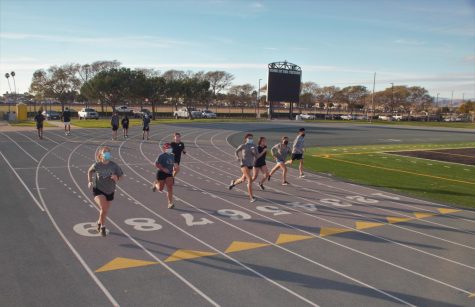 After interviewing a couple of cross country athletes, we can ensure the efficiency and effectiveness of the procedures. Bianca Naranjo, 12, shares, "I do feel safe [and] I do feel comfortable at practice…Every time you go outside, there's always a risk that you can get covid, [but] I do think that the precautions that are taken during practice are…protecting us." There are a number of advantages that are taken by the team, including its outdoor training and a small group of people. As Jonathan Saucedo, 12, explains, "There [is] no lack of control…since the team isn't that big."
The Pacific View League cross country season had their first meet taking place on February 20, 2021, at Oxnard High School. While following the county's COVID-19 guidelines, each individual high school team (ie. junior varsity boys, varsity girls, etc.) were prospectively given a separate time to run. These separate time slots allowed for greater control and a lower risk for athletes, coaches, and parents in terms of getting the virus. Only athletes and coaches were allowed to spectate on the course, while parents are required to remain in their vehicles. "I think it's a bit risky, but as long as [there are] not a lot of people in one place and [there are] separate times to run…then it should be fine," says Emily Tejeda, 11.
Despite the adversities that COVID-19 has brought, we are beginning to see the possibilities of returning to the "normal" day-to-day that we all long for. Through this pandemic, we are wishing the PHS cross country team the best of luck for a safe, successful 2021 season.
______
Photos by Rezel Transfiguracion