Kick It with Girls' Soccer
With another year, another season of girls' soccer passes and we look back on how they performed. The Varsity team had another great year, ending with an overall score of 10W-6L-7T and 5W-2L-3T score for League, placing Third in Ventura County and making it to CIF but losing in the first match of the Diamond Bar. In addition, Captain Kelly Espino was selected to represent Pacifica High School in the Ventura County All-Star match.
Even with our two losses to our league Ventura and rival school Oxnard High School, the girls really show that they own the field whenever they won, making an average of 2 to 4 goals each time, usually leaving the match with the opponents not making a single goal or barely managing to score one goal.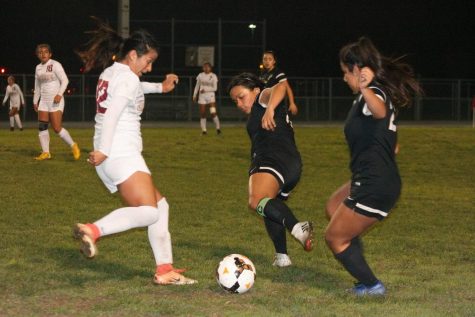 A good show of their skills and teamwork was beating Rio Mesa twice with a score of 3 – 0, Channel Island 3 – 0, and St. Bonaventure 4 – 0, and ending the season with a total of 33 goals all season.
With half the varsity team graduating, we turn our attention to JV, led by the captains Yahaira Suarez, Irene Flores, and Tania Navarro, all of whom we will most likely see on Varsity next year. Though our JV team didn't have as great a season as Varsity, going 5W-4L-1T overall and 3W-1L-1T in League, they still have their fair share of great matches.
They still show Rio Mesa and Agoura that we rule in girls' soccer, beating both 3 – 0, as well as Santa Barbara 4 – 0, and Ventura 3 -1, though losing to Ventura in their rematch. The JV team ended the season with a total of 19 goals made but missing their chance at CIF. [snoadrotate_group group_ids="451″ align="left"][snoadrotate_group group_ids="452″ align="right"]We hope that next year, when they go to Varsity, they can get further than their upper classmates. With their skill and cooperation, the JV team will undoubtedly be able to do so.