UCLA Band Day: Fun in the Heat!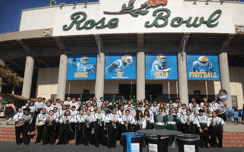 Hang on for a minute...we're trying to find some more stories you might like.
Pacifica High School attended the annual UCLA Band Day this past October 6. UCLA Band Day takes place every year hosted in the famous Pasadena Rose Bowl. This particular day is more than just a football game as many high school marching bands and color guard are invited to participate in the halftime performance along with the spectacular UCLA marching band and guard. High school bands arrive early with parent chaperones at the Rose Bowl grounds and head to a 2 hour mass practice with the Solid Gold Sound led by Gordon Henderson.  
During this practice all bands practice the main half time pieces together until we are satisfied with our sound and unity. After the mass rehearsal bands then break up into their own instrumental sections and group together to go over the music together.
Usually Pasadena weather for this event is exceptionally hot. However, our band got a lucky break this year. For the duration of this event the weather in Pasadena for that weekend was in the mid 70s  for the day. When it is one of the hotter years students and band members must power through the heat with hydration and determination. Participants are encouraged to bring sunscreen and hats in an attempt to outsmart the heat. Though, many dangers of prolonged exposure to sunlight and heat remain, there is a cool down bus located on sight of the practice grounds for anyone who is affected by the heat as well as multiple water breaks. 
Nonetheless, they all make sure to have an overall good time at the Rose Bowl. After the practice our band students get a snack break at the nearby park. There they are free to roam around and occasionally buy ice cream from a  local ice cream man if one is there. Other high school bands also share the break location with PHS and proves for a good time communicating and making new friends in band.  
The bands then suit up into uniform and get ready to set forth to the stadium for seating. During this the students get two bottle of water, one cold and one room temperature, to take over to the stadium when they get thirsty. In the stadium all of the high school bands sit near each other for the game. From there, the high school musicians wait for a UCLA band member to call and guide each band down to the field and wait for halftime to perform. After the grand performance our band then heads for the exit as we take a group photo in front of the Rose Bowl stadium sign. The band then marches back to the buses where they take off their uniforms and get a final snack to eat then head home.  
The bus ride home is full of fun and bonding time with the band. During the drive back they sang songs, cracked jokes, and just had a good time, with the occasional few people sleeping of course. Overall, UCLA Band Day is always a great time for everyone involved and was very memorable for all.
About the Contributors
Christine Perez, Opinion Editor
I am Christine Perez and I am a senior this year. Aside from journalism, my interests include art, music, and biological sciences.