Going Once, Twice, And Sold: Band Auction
Hang on for a minute...we're trying to find some more stories you might like.
On May 11, 2017, the annual band auction was held in support for the funding of the band programs in Pacifica. This event is led by Ms. Rogers, the band director of Pacifica, in hopes of raising money for band expenditures. It is highly encouraged for the public to come and participate in this event due to the environment it can create which can lead to bidding battles among people in the audience, thus increasing the value of a product. Anyone can come: parents, students, faculty, community members, and even kids are welcome since Ms. Rogers emphasizes the importance of children's literacy. This led to her having a separate section for little kids in which they can bid freely and buy things for themselves without competition.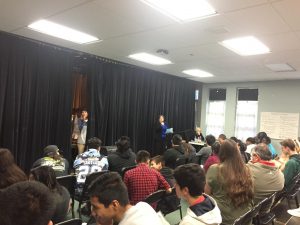 This year's auction had a variety of items that were available to sell for more than the starting price or its real value. Items such as gift cards from retail stores and restaurants in the community were popular amongst the crowd as people had heated bidding battles. There were also some musical instruments that were for sale, like a brand new ukelele, and a used coronet and bugle. Vinyl records (LPs) were also sold at the auction, a Beatles album went up to $91 due to two students who wouldn't put down their bidding card. That certain competition is what the auction hopes to achieve in each item.
Overall, the event had a good turnout and the band was successfully reimbursed with money which will help in their future endeavours. Stay tuned unitl next year for the next auction and maybe you will find something worth buying.