High School Nation
On April 17, 2017 Pacifica High School students and staff were presented with a musical event, High School Nation. Now High School Nation is a touring event that allows new musical performers to be showcased, has big artist performances, and gives donations to high schools all around. shows and has expanded over time, 19 acts.
Through the event, Pacifica gained a recording studio courtesy of the tour: Triton 1. The founders of this event are Jimmy and Kevin Cantillon, who first wanted to help their younger brother get noticed in the music industry and then grew to what it has become now, a nationwide tour. It first started out 5 years ago just as lunch time was the biggest they have ever have in a showcase, and that limit was reached today. Having 25 showcases in season, many of their acts are always new and are chosen at random and by submission. Except for some of the performances by performers who are recognized more such as The Plain White T's and Drake Bell.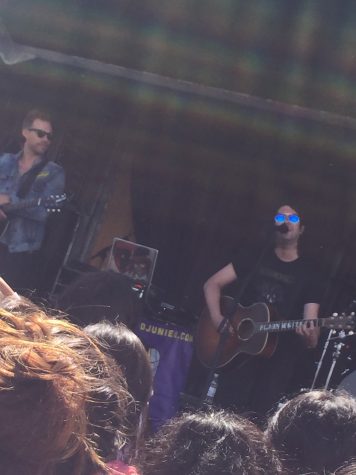 High School Nations main interest is to attract teens into the industry of having anything be possible, and having them be the most creative and authentic people they can be. With many partners such as Truth, Sparkling Ice, Guitar Center, DW Drums, Crayola, Gibson and so many others, it shows the "company" taking the musical interest of many and trying to get them involved in just the small amount of time they have.
Most of the artists do this not for themselves but for the students. The performers want to give back to the schools and show the students that they can get far in life doing what they love, like the Plain White T's who had started out as a band in high school. After each artist performed they got to meet some of the students. At the end of the event, they all took time to take pictures and chat with some of the students. "We feel like it's important to get to know the people we meet, especially the younger ones" said Tom Higgenson from The Plain White T's.
Leave a Comment