Track and Field
Our track team members have been conditioning since September unlike any other sport. Track definitely revolves around endurance for the most part. PHS junior, Fabian Lumpian believes the team "has the ability to win league this year. The relay team and some individuals might be able to go to CIF and maybe even state." Fabian's running events consist of "the 4×1, 100m, 200m, and occasionally, the 4×4."
When asked how he feels when he crosses the finish line, Fabian stated that it "depends on the event and how [he] performs. If [he] runs good in a shorter distance event, no matter how well [he] runs, [he] feels gassed." He admitted that he can "improve on work ethic and endurance. Sometimes [he] gets lazy and doesn't go to practice, and it shows at the meets. That laziness in turn gives [him] poor endurance to the point where [he] cant hold a full sprint for more than 150m." He motivates himself to not let himself "fall behind." His goal is to also win league.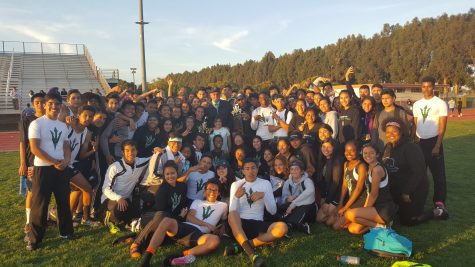 Although track is mostly thought of as an individual sport, as team mates, they all count on each other for help during practices and to cheer each other on during meets. Hazel Mandujano (11) says, "You have to work hard on your own and practice for yourself but you also have to help motivate each other and keep each other going during practices and meets."
Our track team has also recently won their meet against OHS who is considered our rival school. They got to take home the trophy and are now looking forward to winning more meets this season. Good luck on the rest of the season to our Track and Field team!