Free Money!
Hang on for a minute...we're trying to find some more stories you might like.
Free Money! That's basically what scholarships are; free money for college. How do you get a scholarship? Where do you go to get a scholarship? All these questions and you need answers. Luckily, we have Mrs. Castellanos in the Career Center who has been helping students for over 10 years try to get scholarships. What Mrs. Castellanos usually does monthly is create a scholarship bulletin which is then emailed to all students through their school email. And now you have the opportunity to read that bulletin and at which point see if there was something on that list you'd like to apply for. A majority of these applications will be online, but Mrs. Castellanos also has hard copies in the Career Center for the students who cannot access their email. It's now up to you whether or not you actually take the incentive to apply to the scholarships that are on that list.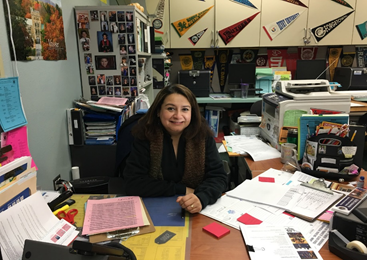 Mrs. Castellanos in the Career Center

Do not be discouraged if you don't get the scholarship the first time around for there are plenty of other scholarships to apply for. As Mrs. Castellanos put it, "If at first you don't succeed, try again." Not all scholarships are based on need, some are based on academic or personal achievements. There are many of scholarships that are set up with exactly you and what can you do in mind. Quoting what Mrs. Castellanos said "Apply to as many scholarships as possible." You probably do amazing things every day and it is about time that you get something back for it. There's not a good enough reason to pass up an opportunity to earn $500 or more for college.
So remember to check your student emails at least once a month for any upcoming scholarships!